Heli Cruise Island Escape
Want to experience the best of the Bay of Islands all within one day? Our Heli Cruise Island Escape package allows you to experience a boat cruise between Paihia and the islands, an island beach stop over and a scenic helicopter flight.
The Ultimate Adventure of Sea, Land and Flight
Available October to end of March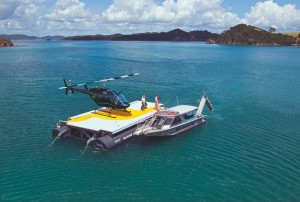 Experience the Bay of Islands with our spectacular Heli Cruise Island Escape.
Depart Paihia at 9am on the Sea Shuttle boat for a relaxing cruise taking you on an informative tour of the Islands, stopping at Roberton Island along the way

Disembark on to an island beach to enjoy the beach at your leisure and island activities such as hiking, fishing, snorkelling or just relaxing.

After 2-3 hours on the island (approx 1.30pm onwards) we pick you up again on the Sea Shuttle for the transfer to our custom built Helicopter Barge in the heart of the  Islands

Depart on a stunning scenic helicopter flight to the Hole in the Rock and back over the islands before landing in Paihia.
Tripadvisor Reviews
We regularly receive great reviews of this tour on our Tripadvisor page.  Some recent comments include:
Bay of Islands boat & helicopter tour. Overall this activity was the highlight of our stay in the Bay of Islands and our "private island" is one of the first things we talk about when we tell people about our trip to NZ. I'd definitely recommend doing this instead of just a boat or helicopter tour on its own – the views were amazing and having a whole little island to explore on your own was something special. The team at Salt Air were very nice and friendly and very helpful & well organised. They also even helped when we wanted to get a high-resolution photo of the island we visited to get printed out. .
 Visited Dec 2013. 
see review on Tripadvisor
Fabulous Day Out. We did the heli cruise which I thought was great value for rnoney. The first part had us taken by motor boat around the Bay of Islands being dropped off at 2 islands to explore. We then we taken out to the helicopter landing pad which is on a raft in the middle of one of the bays and flown back to Paihia after a scenic flight around the Bay. A great experience and highly recommended.
 Visited Feb 2013, 
see review on Tripadvisor
Unforgettable, start to finish. We did the heli island escape and it was the best money we spent on our honeymoon. The helicopter ride was a great way to see the Bay of Islands and we were dropped at a beautiful and secluded area with provisions for a thoroughly pleasant afternoon. What really sets Salt Air apart though, is the staff. They were friendly, obliging and knowledgeable and they really made us feel special.
Visited Feb 2013. 
see review on Tripadvisor
Booking Details
Sea Shuttle departs Paihia for Islands 9.00am and your return helicopter flight will be scheduled when you book (approx from 1.00pm onwards).
Packages from $319 per person, see options below
Minimum Number for booking is 2 people, we can try and accommodate single passengers on request
What to Bring: Please wear appropriate clothing and footwear for a beach visit, hats, sunscreen, swimwear/towels for swimming. Your own lunch and drinks. Snorkelling equipment is available for hire
Available for bookings during the summer season from October to end of March
Island Escape Options (Available October to end of March)
Heli-Island-Cruise: $319 per person
A truly memorable and must do activity, this package provides you with a mix of seeing the Bay of Islands from the air and on the water with an island stopover in between.
Includes:
Sea shuttle  boat cruise departing at 9am from Paihia to the islands
Island stopover for 2-3 hours
Helicopter scenic flight from the floating helipad in the islands to the Hole in the Rock and back over the islands to Paihia
Duration: Approx 4 hours
Heli-Island-Heli: $589 per person
Already done a cruise out to the islands or prefer to have a heli transfer in both directions? This package offers scenic heli transfers in both directions for your island escape stop over. Depart Paihia for a scenic helicopter flight to the "Hole in the Rock" before landing on our Heli Barge. Boarding our Sea Shuttle, we cruise across the Bay to the island of choice to enjoy at your leisure with a gourmet picnic lunch. Our Sea Shuttle will transfer you (at a prearranged time) back to our Helicopter Barge for the return scenic Bay of Islands flight landing back at our Paihia Helipad. Duration: Approx 4 hours Includes:
Two scenic heli scenic flights to/from Paihia and the heli barge
Boat transfer between the islands and the heli barge
Island beach stop over
Gourmet picnic lunch
Book This Tour Now
Cruise-Island-Cruise: $75 per person
This package excludes heli flights so you can still enjoy a day out on one of the stunning Bay of Islands beaches cruising on our Sea Shuttle in both directions with the day on an island. Availability is subject to the boat being booked for the Heli Cruise options, please enquire directly with us.
Island Activities
During your Island Stop over you can enjoy a multitude of activities at your leisure, or simply lie on the beach and swim.  For the more energetic try:
Island Walks – ask us about what islands are the best for walking tracks and views over the Islands
Snorkelling – we can provide snorkelling gear at $15 per person
Fishing – bring your own gear or hire some in Paihia (just check with us first about fitting your gear into our helicopter)
Jet Skiing – we can arrange to get a Jetski to the island for you to hire, which can also be used for waterskiing