The Hole Experience – Heli and Cultural Tour
For the first time in New Zealand's history and exclusive to Salt Air in conjunction with the Motu Kōkako Ahu whenua Trust, we can now offer an unforgettable adventure to set foot on top of the iconic Hole in the Rock – Motu Kōkako.
For many years visitors have come to the Bay of Islands to venture through this top New Zealand icon the Hole in the Rock on boats, we have flown them over it thousands of times, and it has been admired by many for its unique appearance and history.
Now it can be experienced up close and on foot, landing by helicopter on our newly built helipad on top of the island.  Visitors have the option to land on the island with a brief stop on the viewing platform or be hosted on the island by a local Maori Guide, who will share the islands' unique history and its cultural and ecological significance.
Very few people in history, including Maori, have ever ventured on the island in this way before. Being surrounded by steep cliffs (over 150 metres high) and stunning scenery looking towards Cape Brett and its surrounds, this unique landing location will no doubt appeal to the adventurous.
Click on Package Options Tab for more details.
The adventure of the scenic flight, exciting landing on the Hole in the Rock and cultural aspects will combine to reward visitors with a thrilling and utterly unique New Zealand experience.
Book Now
This tour left me with a feeling of privilege, emotion and awe…without a doubt one of the best things I have ever done.
It was a profoundly moving experience that I will never forget. I was teary for hours afterwards…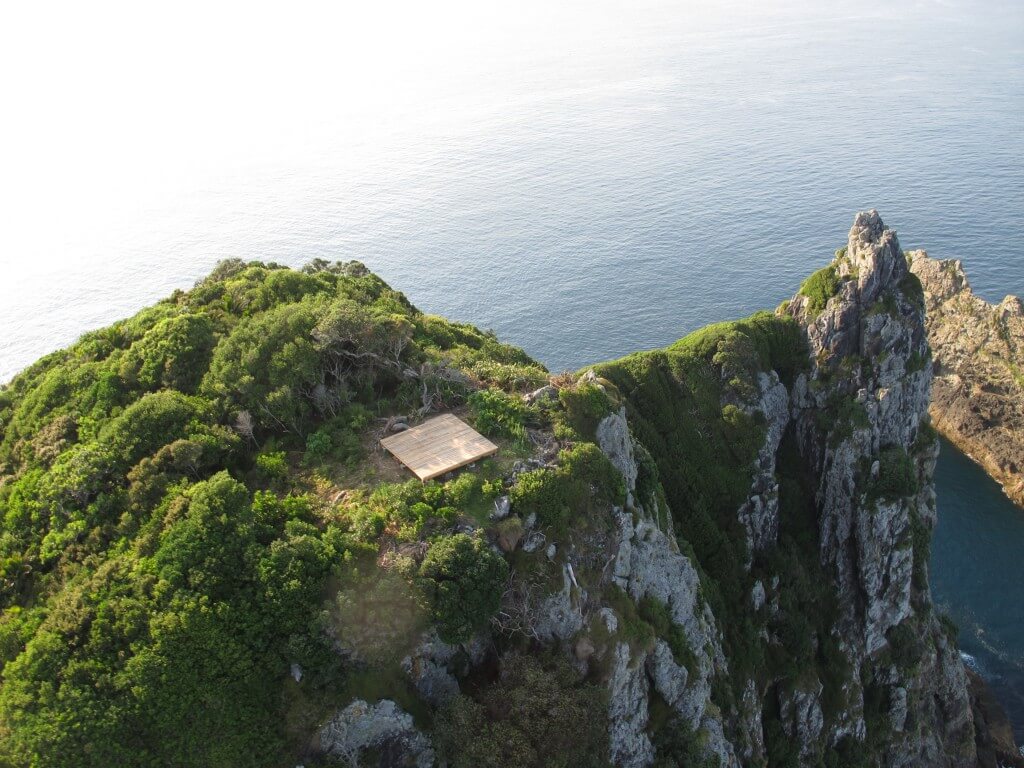 Audio introduction and welcome to the Motu by it's ancestral owners.
Tripadvisor Reviews
Amazing! My wife and I took the 45 minute helicopter tour where we landed on Motukokako Island, which is island with the "hole in the rock". It was great! The view was awesome and the commentary was informative and interesting. We got out of the helicopter on the hole in the rock island and walked around for a few minutes. We did a helicopter tour of Kauai in Hawaii in November and this was better. I know what you're thinking – it is expensive! I almost didn't do it because of the cost but I must say it was worth it! I'm glad we did it!
Visited Feb 2015,
see review on Tripadvisor
The new Hole in the Rock Trip's Supremo. Even though we are locals, Saltair's helicopter trip to their new platform right at the peak of this awesome rock outcrop just blew us away. The Paihia welcome,the flights out and back over the hundreds of islands in the Bay, the spectacular approach, the landing on the rock, the veiw points, the skill and local knowledge of Manu our pilot all contributed to mile-wide smiles during and certainly after the adventure. We now have a whole new appreciation of our magic Bay of Islands.Go again? – yes please.
Visited March 2013,
see review on Tripadvisor.
Hole – in – the – Rock – Salt Air Tour. My wife and I have now had tours in 2 consecutive years with Grant of Salt Air as our pilot on both. We have been lucky enough to travel the world and have amazing experiences, but the two we have talked most enthusiastically about with friends and family have been our two with Grant and Salt Air.
This year we did the Hole in the Rock. Unique is a word that gets over used, but this tour is truly unique. To be only the 56th and 57th people of European descent to set foot on a site that was central in the Maori warrior culture for 700 years is almost a spiritual experience, but when you add to that, that you stand on top of a sheer rockface 500 feet above the Paciifc Ocean, with the most beautiful scenery you can imagine, it becomes otherworldly.
Grant runs a truly world class company and provides considerate, caring, customer service and as much fun as you can have anywhere. If you do nothing else in New Zealand, you must do this! Jeff and Suzanne, Vancouver, Canada.
Visited Feb 2013, 
see review on Tripadvisor.
History of Motu Kōkako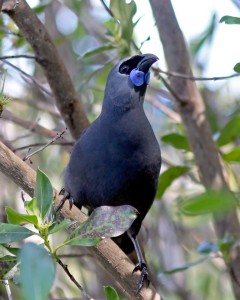 " Motu Kōkako" is the Maori name for the motu / island, the origin of which is said to have eventuated in ancient times and literally translated means Kokako Island. The Kokako is a bird that once inhabited the motu, whose feathers were valued by Ngapuhi. Historically, young male warriors would journey to Motu Kōkako and climb its steep cliffs to gather Kokako feathers for their Korowai (feathered cloak). The motu has also been known as Piercy Island, a name given by Captain James Cook.
Bio-diversity of Motu Kōkako
Although small, in terms of conservation it is probably the most important island in the Bay of Islands' (Taylor et Al 1991), University of Auckland Botany Dept. The unique bio-diversity of the island is apparent with over 90 species of vascular plants, no predators and the island being 'naturally' pest-free.