Cape Reinga Tour by Aeroplane
Renowned as the best way to see Cape Reinga, this is a New Zealand Must Do!
Cape Reinga Half Day Tour - $450 Per Person
Salt Air's "Cape Reinga Fly/Drive" ½ day tour by aeroplane is the alternative way to travel to the top of New Zealand to experience it's beauty, history and scenery from both the air and on land, with the added bonus of avoiding a long road trip if you are short on time.
The initial stage of the tour consists of a 45 minute flight up to Cape Reinga via Northlands' spectacular harbours, such as the Whangaroa Harbour and the Rangaunu Harbour. We also pass across some beautiful beaches such as Coopers Beach, Doubtless Bay and of course the famous Ninety Mile Beach. From Ninety Mile Beach we then fly inland where we land at our airfield, which is only 20km from the Cape Reinga lighthouse.
Once on the ground a comfortable air-conditioned mini-bus will meet the aircraft. It will take you on a 2½ hour tour around the top of New Zealand. Including:
The Cape Reinga Lighthouse where the Tasman Sea meets the Pacific Ocean
A short drive to Tapotupotu Bay where we enjoy a freshly baked light refreshment. There is time for a stroll on the beach
Then we move across to the Te Paki quicksand stream with its giant sand dunes; (we have sleds available for those who wish to experience the exhilaration of sliding down the sand dunes and try some "sand surfing").
The return 1 hour flight to the Bay of Islands includes some of the most spectacular coastal scenery Northland has to offer. You will fly over the Parengarenga Harbour and Great Exhibition Bay, which are only visible by air or by sea. This area is very remote and without a doubt one of the most beautiful places in New Zealand with it's pure white silica sand and crystal clear water. The flight also passes across the Houhora Harbour, the Cavalli islands, Kauri Cliff's golf course and the spectacular Bay of Islands.
*Please note all departures are subject to weather and minimum 2 passengers. Book Now
Departures: Daily morning departures from
Kerikeri Airport,
times vary summer and winter – see below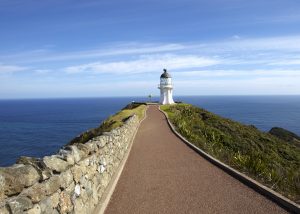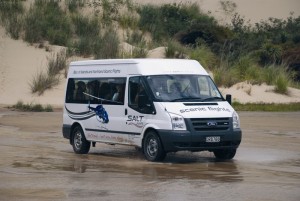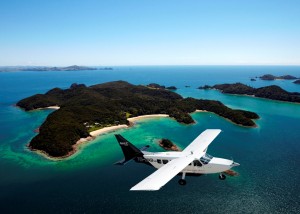 Summer Morning Tour
(OCT - MID APRIL):
Departs Kerikeri airport at 8.30am, meet us at Kerikeri Airport at 8.15am, with the return flight landing at approximately 12.50pm
We offer complimentary transfers from Paihia accommodation and Paihia Wharf for Russell Accommodation. Please note: if you meet at Kerikeri airport there is a small parking fee.
Pick up in Paihia from about 7.45am, returning by 1.20pm
Summer Afternoon Tour 
(OCT - MID APRIL):
Departs Kerikeri airport at 1.15pm, meet us at Kerikeri Airport at 1.00pm, with the return flight landing at approximately 5.45pm. Please note: if you meet at Kerikeri airport there is a small parking fee.
Pick up at our Paihia Sales Office by 12.30pm, returning approx 6.00pm
Please note the afternoon tour is only scheduled if our morning tour departure is full, please enquire with us directly to check
Winter Morning Tour
(MID APRIL-END OF SEP):
Departs Kerikeri airport at 9.00m, meet us at Kerikeri Airport at 8.45am, with the return flight landing at approximately 1.20pm
We offer complimentary transfers from Paihia accommodation and Paihia Wharf for Russell Accommodation.
Pick up in Paihia from 8.15am, returning by approx 1.50pm
Please note: During the winter season due to wet weather it is possible that the aircraft can not land up at Cape Reinga, on these occasions we can offer a scenic flight only option that is extended to fly over the Cape area.
Video
Route Map
Photos
Reviews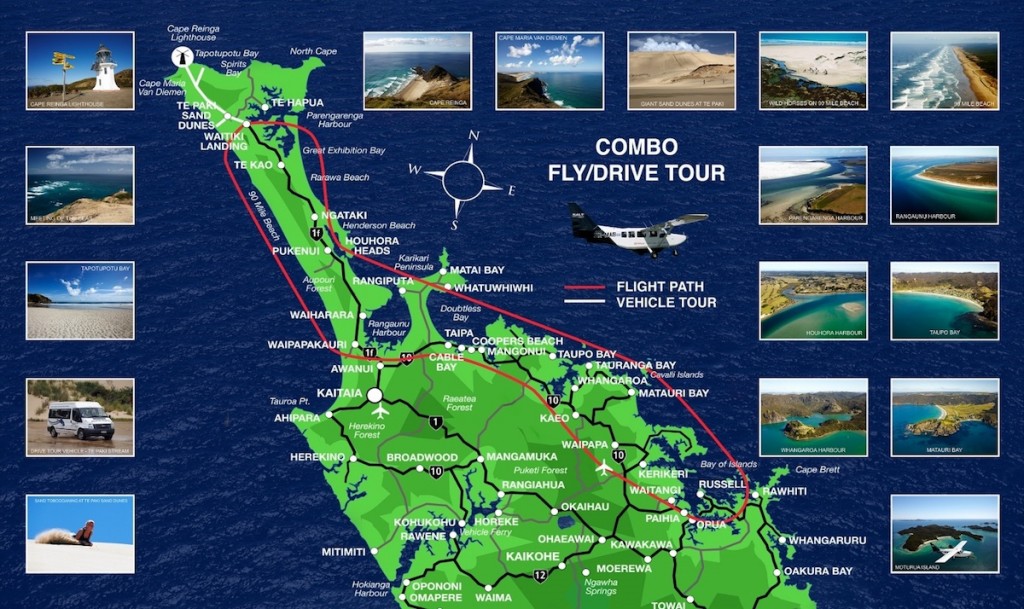 Tripadvisor Reviews
We regularly receive great reviews of this tour on our
Tripadvisor page
.  Some recent comments include:
Highlight of our visit to the Bay of Islands!
Excellent tour all around! From the van pick up in town, to the flight up and down the coast, to the van trip in the far north - Salt Air was a first class experience. Small group in a small fixed wing airplane designed for flight-seeing! You get what you pay for - amazing views, commentary and excellent pilot and tour guide (Brendan). Allowed us to see the far north of NZ without the long drive and experience Cape Reinga, a beautiful bay beach and the river drive and sand dune tobogganing! Do it!
Worth the money !
This was a fabulous way to see the Cape Reinga and 90 mile beach. We took off from Keri Keri airport in a plane that held about 8 passengers. We had terrific views of the coast line, the rolling hills and farmlands that you would never get from the ground. Our pilot/van driver was a very nice young guy who had a great attitude and was very knowledgeable. This was one of the highlights of our trip. I know it is an expensive proposition but if you can swing it, I doubt you would be disappointed !
Air trip to Cape Reinga. If you can afford this, or even if you can't, this is fabulous. The aerial view of 90 mile beach and the Bay of Islands are simply stunning. Daniel, our pilot, and Bruce, the minibus driver were knowledgeable, polite and fun. Afternoon tea on the beach is a great addition, but tobogganing down the sand-dunes caps a perfect half day. My wife and I are both over 50, and we took our daughter for her 21st birthday, and we all thought it was awesome...
Beautiful Bay of Island by Air. Seeing the beautiful Bay of Island by air is amazing. You only get the 3 dimensional feeling of this great subtropical landscape when you travel by airplane. It looks totally different by air and you see a lot more like nice beaches and clear water. And it is the easiest and fastest way to visit Cape Reinga, one of the NZ must to do's. Very nice and friendly tour guides made this trip to one of our favourite ones at NZ.
Great Experience. We had an amazing time and the flight to Cape Reinga in the fixed wing plain was smooth and the scenery was beautiful both ways. The pilot James was very informative and made the flight interesting. The landing at Cape Reinga was an experience in itself and we thoroughly enjoyed the morning. The dune rides was another highlight of trip. What a great way to see the islands.
Not to be missed. Ignore the cost. Best trip of the North ever! Salt Air trip up to the North cape and Cape Reinga is absolutely a must. Some people are put off by the cost. Travelling to NZ is expensive, getting to the Cape is cheap. Do it as it is a once in a lifetime trip. Greta views of 90 mile beach on West coats and stay and see the crashing of the Tasman Sea into the Pacific Ocean where they meet. Then a trip in an immaculate 8 passenger van takes you to a beach for tea and snacks, followed by a unique experience sliding down the sand dunes on a snow sled. A must for all ages and easy to do. Then the trip back along the amazing East Pacific side coast with white silica sand beaches and other coves rocks and coastline to die for. A wonderful 4-1/2 experience. Highly recommend with great pilots and tour guides to boot. Learnt a lot and saw it all. fabulous.
The Stand-out Experience in North Island. My wife and I were lucky enough to be able to take the 1/2 day tour up to Cape Reinga from Pahia which included - Shuttle to airport, flight up the west coast [90 mile beach] in a fixed wing mono-plane, scenic drive to Cape Reinga and its iconic Lighthouse, then to the immense sand dunes, sand-boarding, tea and cookies on the beach, shuttle back to the airstrip and the a flight back down the east coast. It literally took our breath away. The drivers, guide, and pilot were all excellent with superb local knowledge, they made the trip one which we will remember as the best day on our recent trip to New Zealand.
Travel Writers
From time to time we host travel writers on our flights. See article written by Cindy Sosroutomo titled "My Perfect Day in New Zealand"  describing our Cape Reinga Half Day Tour when she experienced it in April 2013.