Cape Reinga VIP Scenic Helicopter Tour
Our exclusive Cape Reinga helicopter tours offer another dimension to our most popular products for the discerning traveller.
Tour Description
Tour Details
Photos & Video
Our "Cape Reinga VIP" tour by helicopter is for the discerning traveller wanting a private and fully inclusive full day experience.
The initial stage of the tour consists of a flight up to the Cape Reinga region via Northlands spectacular harbours, such as the Whangaroa Harbour and the Rangaunu Harbour. We also pass across some beautiful beaches such as Coopers Beach, Doubtless Bay and of course the famous Ninety Mile Beach. From Ninety Mile Beach we then fly inland where we land at our private airfield which is only 20Km from the Cape Reinga lighthouse.
Once on the ground our comfortable air conditioned vehicle will meet the aircraft to begin your vehicle tour. This part of the tour takes approximately 3 hours. Included stops are the Cape Reinga Lighthouse, Tapotupotu Bay and the Te Paki stream with its giant sand dunes; (we have sleds available for those who wish to slide down the dunes). Some itineraries will include a picnic lunch at Tapotupotu Bay.
When the vehicle tour is complete we arrive back at the airfield to begin the next flight leg over spectacular and remote scenery such as the white silica sands of Parengarenga Harbour and Great Exhibition Bay and down the east coast. Lunch may include a stop at Henderson Bay with local hosts, or at another hosted location. We will advise on booking.
From here the flight back down the east coast also passes across the Houhora Harbour, Karikari Peninsula, Whangaroa Harbour, the Cavalli islands and of course the stunning Bay of Islands before setting down at the original departure point (flight will exclude the Bay of Islands if staying in accommodation north of Paihia such as Kauri Cliffs).
---
We can arrange for the Helicopter pick up and drop off from your accommodation if it has a helipad – please check with us to confirm.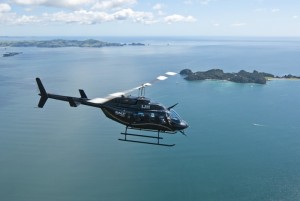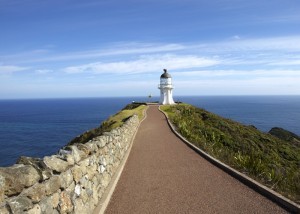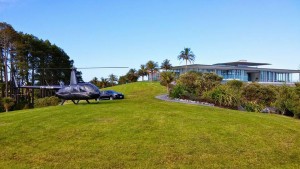 Tour Information
Departures: 09:00am Departure with return time depending on options chosen.
Max number of passengers: 5 in Bell Longranger, 3 in Robinson R44
Meal provided: Full Picnic Lunch – special dietary needs can accommodated please advise at time of booking
Sole Charters: All VIP flights excursions are sole charter
Pricing: Due to the variety of options available for the helicopter day tours to Cape Reinga, pricing is advised on application. Please indicate when enquiring your preferences for optional inclusions. Prices will vary according to the helicopter type and availability, number of passengers and options selected.
The Robinson R44 Helicopter has limited availability over the summer high season for these full day tours
Request a Quote
To get a quote please fill out the form below with details on how many people it would be for and what date you wish to do the tour.
Add a Private Footprints Waipoua Tour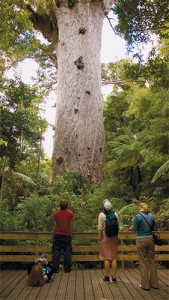 Cape Reinga VIP Helicopter Including Footprints Waipoua Tour
Depart your Bay of Islands accommodation property or central Paihia for your 30 minute (approx) helicopter flight across to Omapere where you will be met by your Footprints Waipoua guide.
Footprints is operated by local Maori on Northlands rugged West Coast. Let Kupe's (NZ's first discoverer) descendants take you on a guided walk of the largest kauri forest in the world and introduce you to their relationship with Mother Nature, both spiritually and culturally. This ecologically significant environment; in former times a home and playground to Maori is brought to life by not only the sounds and potential sightings of its inhabitants but by friendly experienced local Maori guides who willingly share their knowledge, stories, song and musical instruments to enlighten and enhance this tranquil and spiritual location. A highlight of your experience with Footprints will be an introduction to Tane Mahuta – God of the Forest. (Forest Tour duration approx. 1.5 hours).
From Omapere you continue to the Cape Reinga region via Northlands spectacular West Coast and of course the famous Ninety Mile Beach. From Ninety Mile Beach we then fly inland where we land at our airfield which is only 20Km from the Cape Reinga lighthouse and continue Cape Reinga Tour as above.
We had an amazing day and the weather couldn't have been better. The food was delicious and we such a great pilot and tour guide, we really had an unforgettable day and made memories that we will all keep forever!