Helicopter Scenic Flights
Bay of Islands, with it's turquoise clear blue waters and white sandy island beaches, is simply stunning from the air.
We offer a range of shared scenic flights departing from our Paihia helipad
Hole in the Rock - 20min
Coastal Discovery
Heli Cruise Island Escape
Hole in the Rock Scenic Flight – $260 per person
The Bay of Islands offers some of the best coastal and island scenery in New Zealand so this helicopter scenic flight offers exceptional views of these beautiful islands leading to the infamous "Hole in the Rock". Departing from the beachfront helipad in Paihia the flight heads across Russell with views over to Opua and surrounds before tracking along the stunning peninsula coastline to Cape Brett and it's lighthouse where you will experience an exciting turn to fly around the Hole in the Rock.
The return portion of the flight flys directly over the main islands of the area with birds eye views of their white sandy beaches, inviting turquoise waters and some of the luxurious private residences.Coming into land you will fly past the Paihia township. An exciting must do while in the Bay of Islands! (flight duration approx. 20 minutes)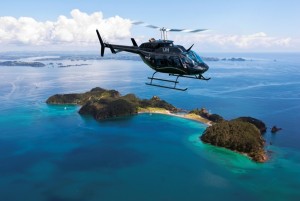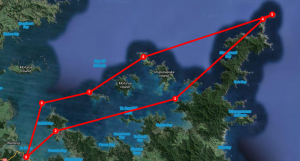 Upgrade to include a 15 min Hole in the Rock Landing for $399 per person (duration approx. 35 minutes)
Coastal Discovery Scenic Flight – $350 per person
An opportunity to explore a little more of the unique and stunning coastline surrounding the Bay of Islands region with an extended version of the Hole in the Rock flight adding in more of the remote coast line on the eastern side of the Cape Brett peninsula, and on the return extra views towards the Kerikeri inlet, over the Black Rocks, Waitangi and Paihia. (flight duration is just under 30 minutes)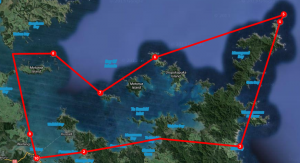 Upgrade to include a 15 min Hole in the Rock Landing for $450 per person (duration approx. 45 minutes)

Want to experience the best of the Bay of Islands all within one day? Our Heli Cruise Island Escape package allows you to experience a boat cruise between Paihia and the islands, an island beach stop over and a scenic helicopter flight. Duration: approx 4 hours, Available from October until end of March
$349 per person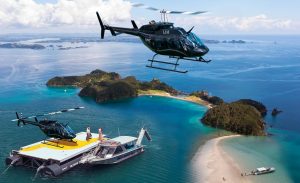 Booking Details:
If booking within 24 hours of departure please phone us for availability as you can not book online

All helicopter tours operate with minimum 2 passengers.

Departures are from Salt Air's Paihia Helipad on the waterfront adjacent to the Paihia Wharf.

All helicopter tours operate subject to weather.

Please note that upon booking or prior to departure we may ask for passenger weights to help manage flight loads and fuel, we particularly need to be aware of any passengers that are over 100kg.