Salt Air is a family business and was established by Grant Harnish in December 1992, initially operating a Grumman Super Widgeon seaplane from the Paihia waterfront offering scenic flights around the beautiful Bay of Islands.
The business grew steadily in the first season and it was decided to make the Bay of Islands a more permanent base. An office was built in central Paihia at the seaplane ramp and Salt Air established their head office on the Paihia waterfront.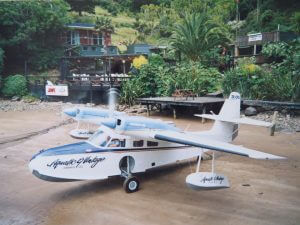 As an extension to the seaplane operation, Salt Air began operating land-based aircraft from the airports at Haruru Falls and Kerikeri. These aircraft were used to develop the Cape Reinga ½ Day Tour, which has grown to become one of the premium and renowned experiences for visitors to the region.
This tour, which involves flying up to a private airstrip at Cape Reinga (top of New Zealand) and then a vehicle tour before returning to the airfield and flying back to the Bay of Islands proved to be immensely popular and demand quickly outstripped seats available in the smaller Cessna 172's. Thus larger aircraft were needed.
From 2001 onwards helicopters were also introduced to the operation. As well as offering scenic flights over the Bay of Islands from the Paihia waterfront, the helicopters are also available for charter flights to exclusive lodges, golf courses and secluded destinations in the Northland region. Our sole charter helicopter Cape Reinga option has been well received as an alternative way to explore Northland from those properties equipped with helicopter landing areas.  Our larger helicopters are also available for lifting and fire fighting capabilities. See our current fleet here.
In November 2010 we introduced our Heli Cruise Island Escape which incorporates our Custom Built floating Heli Pad moored in the heart of the Bay of Islands and island transfer in our Sea Shuttle for a supreme full day experience of Sea, Land and Flight.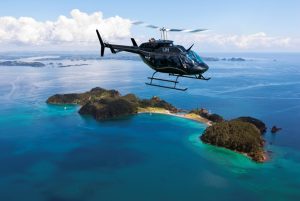 An exciting product development came with the launch in January 2013 of our helipad on top of the infamous "Hole in the Rock", known in Maori as Motukokako. This allows passengers the unique and privileged opportunity to set foot on the very top of this island to take in the stunning views and learn the significance of the island to the local Maori.
Salt Air worked jointly with the island owners, the Motu Kokako Ahuwhenua Trust to offer this amazing "once in a lifetime" experience. Since it's launch the popularity and feedback from our customers about this flight has been outstanding. Visitors to the island recognise that is a quite a privilege and incredibly unqiue.  See more here.
In August 2018, Salt Air was assessed by Tourism New Zealand's Qualmark organisation as a Qualmark Gold rated tourism operator. We very proud to have achieved the highest standard for this rating on our first application and no doubt our prospective customers appreciate the high endorsement of our business practices and service levels.
"Qualmark provides evidence that your business has been independently validated as a quality tourism business.
It provides instant recognition for customers that your business will deliver a quality experience."
Visit the Qualmark website to find out more about this endorsement.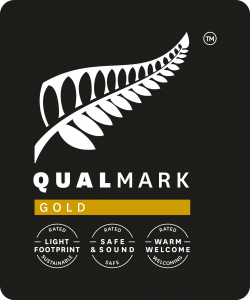 Our Team
Grant Harnish – CEO/Operations Managers, Chief Pilot
Michelle Ackers – Marketing & Sales Manager
Jodi Ferguson – Paihia Sales Office
Melissa Byrne – Paihia Sales Office
Daniel Hill – Helicopter and Fixed Wing Pilot
Troy O'Donoghue – Helicopter Pilot

Sanjeev Hira – Fixed Wing Pilot

Stella Kake – Van Driver

Bruce Gordan – Van Driver